This is my version of a beef stew that is very common in Chinese households. The name is my attempt at a literal translation of the Chinese style of braising meats with soy sauce, wine, and sugar. I included some traditional ingredients (star anise and rock sugar) and some that are definitely not (lime). Using some bone also gives a rich flavor, but is optional. The sauce works well with noodles or rice for a comforting dinner
reenex
. The stew is also typically used to make a beef noodle soup that is perfect to warm you up from the cold.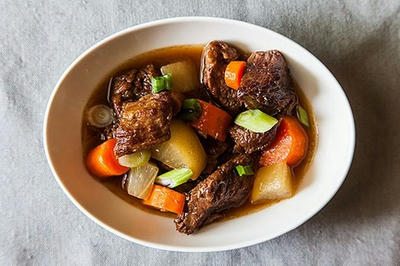 I loved this dish. It was everything I thought it would be: rich, complex and comforting. Monkeymom's timing worked perfectly, too -- the beef was fork-tender after 2 hours in the oven. Her suggestion of cooking the vegetables separately was spot on; I cooked enough vegetables for only 2 servings, and am now able to freeze the rest of the stew, without the vegetables, for a rich beef noodle soup per Monkeymom's suggestions in a few months.
Serves 6
4 pounds beef chuck cut into 2 inch cubes
1 English short rib (1/2-1 lb) (optional)
salt and pepper
1-2 tablespoons vegetable oil
1 cup sweet rice wine, sake, or sherry
1/3 cup soy sauce
1 teaspoon rice wine vinegar
2 cups chicken stock
1-2 tablespoons brown sugar or an equivalent amount of rock sugar (adjust seasoning to taste)
2 star anise
1 slice ginger root
6 garlic cloves
3-4 red chili peppers, fresh or dried (again, suit to taste)
3 whole dried shiitake mushrooms or fresh ones cut into quarters
1 lime, zested
3-4 large carrots, peeled and cut into 1 inch pieces
1 large daikon, peeled and cut into 1 inch pieces
Heat oven to 325 degrees. Season meat with salt and pepper. Heat oil in a large ovenproof pot with a tight-fitting lid. Working in batches brown beef all over
reenex
, removing each piece when done. Add oil as needed.
Add all meat back to pot. Add wine and vinegar and bring to a boil, scraping up browned bits. Add soy sauce and sugar then the stock. Add star anise, ginger, garlic, chili peppers, and mushrooms and bring to a boil. Return beef to pot and add lime zest. Add water to cover meat. Cover, transfer to oven.
Check pot after 1 hour. Turn over pieces of short rib and stir meat. Cover again and cook 1 hour more, or until meat is tender.
Move pot to stove top. Simmer on medium heat with lid off to reduce liquid. Cook for 30 minutes.
To eliminate fat: Depending on your cut of meat, the stew can be very greasy. You can spoon off the fat or poor cooled sauce into a fat separator to remove fat. Alternatively, place pot in refrigerator overnight. Scrape off fat the next day.
Before serving, reheat the stew and cook without the cover to reduce the sauce a little. At the same time, boil vegetables in a large pot of water for 20 minutes. The vegetables are boiled separately to make sure they do not overcook and retain their color. In addition, raw daikon tends to have a very strong flavor that I don't like in the stew. The boiled daikon is mild.
Add boiled vegetables to stew. Serve with fresh hot rice or noodles. Also try it with a sprinkling of chopped green onion and a squeeze of lime
reenex
.
Leftovers make a delicious noodle soup. Bring a pot of water to a boil. Add noodles. When the noodles are almost done, throw in a large handful of fresh spinach. Cooked until wilted, then drain noodles and spinach. Toss with enough sesame oil to coat noodles (1/4-1/2 tsp). Add meat and meat sauce. Pour hot water or chicken stock to cover the noodles and stir. Add soy sauce, meat sauce, chopped green onion, and/or lime to taste. This noodle soup is awesome with a big helping of chili sauce.
PR