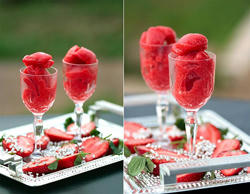 The reason why i made this sorbet was, that i was so disappointed when i went to my most favourite restaurant in Ghana – spent a lovely evening there with my family and had a fantastic dinner and when it was time to wrap up with a sweet ending, i got served some really nasty stuff. Ordered sorbet, and it was the yukkiest stuff I'd ever tasted ! I mean how difficult is it to make sorbet ??? And specially if you're one of the finest places in town ! Well so i had to get back and try my own. Gosh this stuff is easy ! I bought a whole lotta strawberries so i made some extremely healthy yogurt lollies too. Never hurts to have something sweet n nutritious in the freezer right :p, for those crazy irristible cravings at the 11th hour.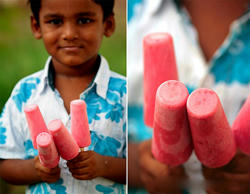 Strawberry Sorbet Infused with Orange Blossom Water
1/3 cup sugar
1 pound fresh strawberries, hulled
2 tablespoons orange blossom water
2 tablespoons lemon juice
pinch of salt
In a small pot over medium-high heat, bring sugar and 1/2 cup water to a simmer. Stir to dissolve sugar, then remove pot from heat and cool to room temperature, about 20 minutes. Meanwhile, puree strawberries in a blender. Pour puree through a fine-mesh sieve to remove seeds, pressing down with a spatula to extract liquid. Discard seeds.In a medium bowl, combine sugar syrup, strawberry puree, orange blossom water, lemon juice, and salt. Cover with plastic wrap and refrigerate until well chilled, at least 2 hours. Stir mixture well, then freeze in an ice cream maker according to manufacturer's directions.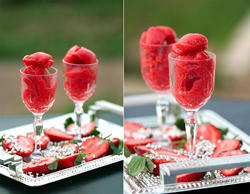 Strawberry Yogurt Lollies
6 tablespoons low fat yogurt
8 strawberries hulled
1 tablespoon sugar
In a small saucepan, heat through the strawberries and the sugar, till the strawberries begin to break down a bit. Turn off the heat and let it cool and the puree the strawberries and beat into the yogurt, blending it well. I don't like to put the yogurt in the blender and it become really runny then, so mixing it thoroughly with your whisk is sufficient. Pour into the lolly molds and freeze overnight. Makes four lollies, may vary from shape of the lolly mold.
PR