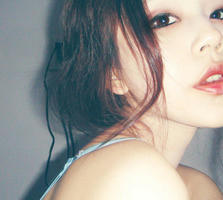 November means the arrival of cooler weather, and the beginning of the holiday season. Cranberries play a starring role in holiday fare, in part because their season is so fleeting. But raspberries, which grow practically year round here in California make for attractive co-stars (check out their availability on the Driscoll's calendar). With this in mind, I set out to make a jam bar that would highlight both fresh berries.
Tangy and buttery my Cran Raspberry Crumb Bars are the result of a happy accident because I let the food processor run a little too long. Instead of chopping the nuts, I pulsed the almonds along with the sugar until they were completely pulverized. Oops! But all is well that ends well. Perhaps jam bars are popular because they are hard to mess up?
Cran Raspberry Crumb Bars would be perfect for a holiday cookie party or to give as a gift. The bottom of the bars is basically almond shortbread and the filling is a very lightly sweetened combination of the fresh cranberries and raspberries. The organic raspberries I used were grown in the US and provided courtesy of Driscoll's. They balanced out the strong sour flavor of the fresh cranberries
Driscoll's offers lots of recipes for using berries and a system for identifying where berries were grown. Look for the code on the bottom of the clam shell package and enter the number at mydriscolls.com. Now through December 31st Driscoll's is running a Made with Love holiday sweepstakes where you can win a bright red Kitchenaid stand mixer and berries for a year or berries for a year.
I am also offering one lucky reader $100 in Driscoll's coupons to use on berries all year long! Simply leave a comment telling me your favorite berry idea for the holidays and I will choose a winner on December 10th. One entry per person and you must leave your email address and have a US mailing address to win. Only I will see your email address.
Cran Raspberry Crumb Bars
Makes 25 bar cookies
Ingredients
Dough
1 cup blanched almonds (whole, sliced or slivered)
1 cup sugar
1 cup unsalted butter, softened
1 egg
1/4 teaspoon almond extract
2 1/4 cups all-purpose flour
Filling
1 cup cranberries
6 ounce Driscoll's fresh raspberries
1/4 cup sugar
Instructions
Preheat oven to 350 degrees. Chop the cranberries or pulse them about 20 times in a food processor. Combine the cranberries
gucci handbags sale
, raspberries and sugar in a small saucepan and gently cook for 5 minutes, mashing the berries with a wooden spoon or spatula. Set aside and let cool.
Line a 9-inch square baking pan with parchment paper, extending it over the edges.
Pulse the almonds and sugar in a food processor. Transfer sugar mixture to a large mixing bowl. Cream the sugar and nut mixture with the butter until creamy. Mix in the egg and almond extract. Add the flour and stir until a crumbly dough forms. Reserve 1 1/2 cups of the dough; set aside.
Press rest of the dough on bottom of the prepared baking pan. Spread filling to within 1/2 inch of edge. Crumble reserved dough over the top of the pan. Bake 35 - 40 minutes or until lightly browned. Cool completely on a rack then use the parchment to lift out of the pan and cut into bars.
PR